Why Choose Aluminium Doors?
25 November 2016
Aluminium doors are a popular option in Hailsham for home improvements, but why choose aluminium doors? Are they superior in some way?
Unrivalled Security
Aluminium doors are the ultimate choice for security in Hailsham. Whereas uPVC doors can be reinforced, aluminium doors have inherent strength in the material that is completely unrivalled. This superior strength makes them almost impossible to break into, in fact, you would need heavy duty machinery to break an aluminium frame.
Our aluminium doors from Origin  also have strengthened glass and are fitted with high-security locking mechanisms that maximise the home protection they provide. They can also feature a British Standards accredited Magnum security cylinder/ barrel, proven to protect against snapping, picking, drilling and bumping.
No other double glazed door offers the superb security of an aluminium door.
Energy Efficient Doors
Many people assume that aluminium is a cold metal and that it doesn't provide the same thermal performance as uPVC. This is not so! Our aluminium doors are fantastically energy efficient.
The Origin design incorporates all the very latest thermally efficient features to maximise the performance of our aluminium doors. These double glazed doors have great, low U-values, proving their performance.
You will benefit from a warmer home that retains heat for longer, so you spend less on energy bills. Aluminium doors are designed to keep your Hailsham home cosy and comfortable.
Incredible Weather Resistance
With aluminium doors, the weather resistance is unbelievable. No matter how bad the British weather gets, even in our winter storms, your aluminium door will protect you.
A uPVC door can feel flimsy and weak when the gales are howling round and the rain is torrential, but an aluminium door will stand firm, giving you complete peace of mind, and protecting your home and family from whatever the Hailsham weather throws at it.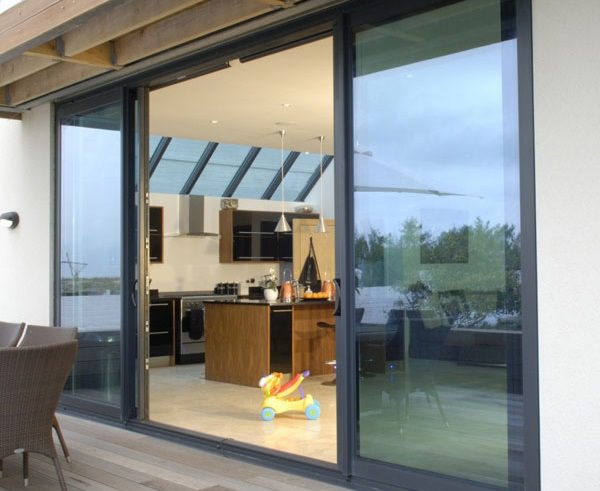 Undisputed Style
With both aluminium doors and uPVC, you get a range of styles to choose from, however, it is in the customisation of those styles that aluminium differs. Your Hailsham home can benefit from truly unique double glazed doors when you opt for aluminium.
Our aluminium doors can be customised with a fantastic range of handles and accessories, letting you personalise them right down to the last detail.
The real feature of aluminium door designs lies in the incredible array of colours to choose from. Our aluminium doors are available in a choice of over 150 RAL colours. No uPVC door can match that. These tasteful colours come in all shades and tones, enabling you to find the perfect look for your home.
We even offer dual colour, enabling you to have an outer colour to suit the exterior of your Hailsham home and an inner colour perfectly matched to your interior décor. It really is an impressive way to tailor your double glazing.
Our aluminium doors are available in several styles, see our summaries below for inspiration for your Hailsham home improvements.

Aluminium Front Doors
Available in a range of panel designs, our aluminium front doors offer a stylish entrance to any Hailsham property, welcoming you home and your visitors.
Aluminum Bi-Fold Doors
Our aluminium bi-fold doors are superb, offering a spectacular feature for your home that creates a luxury entrance to your garden.
Aluminium Corner Bi-Folds
Your home can truly open out to your garden with an aluminium corner bi-fold. These breath taking aluminium doors are an amazing home improvement for any Hailsham property.
Aluminium French Doors
Stylish and elegant, our aluminium French doors give you easy access to your garden or balcony with a versatile design that will suit the space you have.
Aluminium Patio Doors
You can have unrivalled views of your Hailsham garden with our aluminium patio doors. These streamlined sliding doors provide an extensive glazed area for a stunning outlook.
Durable and Robust
One of the most impressive benefits of choosing aluminium doors in Hailsham, is that they offer the most impressive levels of durability.
With just a simple, occasional clean, aluminium far outreaches the lifetime of uPVC. Our aluminium doors are so long lasting, that we even supply a 20 year manufacturer's guarantee to give you confidence in their performance.
No other double glazed door can reach the longevity of aluminium doors.

Aluminium Door Prices
We would love to hear from you if you have any questions or would like a quote on our aluminium doors, so please do get in touch. Our friendly team will be happy to help you and there will be no pressured selling from us at all.